We are gearing up for a month end trading session which will not only be wild but have the potential to give members some serious gains. Our long term plays IFHR (+300%) and CBIS (+100%) pushed for some mega gains last week and definite plays to be on radar this week.
IFHR is super close to announcing their Reverse Merger candidate and members definitely want to be on side when it is unleashed. Going back just 1 year ago, DROP unleashed their reverse merger candidate that pushed prices up 83,000%. With similar share structure of 8.8 Million float we are looking at another repeat in IFHR!

CBIS made a monster push this week of 100%+ gains on the back of 2 solid press releases and a teaser of what's to come. Members acting on our initial alert of $0.04 are now up a solid 120%!

The biggest news for IFHR is yet to come as we anticipate the company to announce their official reverse merger candidate and a follow up on their updates this week

IFHR is poised for a major breakout when the company unleashes their reverse merge news where we can see 1,000%+ gains and move fast and furious. Last traded at $0.081, prices are super undervalued and a solid entry point if you want big gains.

About IFHR
IFHR has been identified as a reverse merger candidate and preparing Audited financial statements for uplisting.
Extremely small float and outstanding – only 8.8M float!
No Dilution
Reverse Merger imminent as communicated by today's Press Release
Annual Filings posted to otcmarkets.com in Audit Financial Style in preparation for uplisting.
Rhino Human Resources, previously INFE Human Resources, operates a wholly owned subsidiary, LoneStaffing, Inc., that consults businesses and helps them recruit commission only sales reps. Recently, management has decided to seek out a merger candidate in an emerging market to take the company to a higher level. For more information Contact: Investor Relations 1-877-571-6184.
CBIS released 2 press releases that got the attention of many investors – watch for a follow through of higher prices and trading action this week:

CBIS reached a high of $0.108 last week, watch for a second wave to break through recent highs and into "blue sky" levels.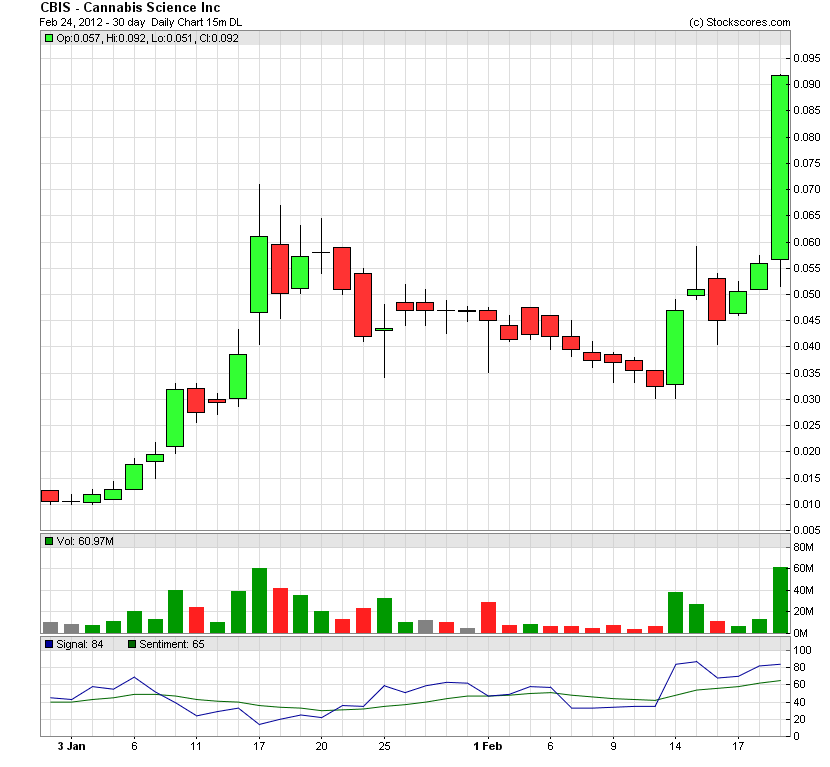 CBIS also announced last week that "A&E Begins Filming An 8-episode Documentary With Cannabis Science's Newly Appointed Director of Horticulture Bret Bogue; Focused On Bret Bogue, World Renowned Medical Cannabis Cultivator"
http://finance.yahoo.com/news/A-E-Begins-Filming-An-8-bw-287126205.html
We look forward to this Documentary that will give huge exposure to CBIS and monster long term gains!
About Cannabis Science, Inc.
Cannabis Science, Inc. is at the forefront of pharmaceutical grade medical marijuana research and development. The second formulations will address the needs of patients choosing to use concentrated cannabis extracts to treat their ailments. Eventually, all Americans will have access to a safe and effective FDA approved medicine regardless of which state they live in. To maintain that marijuana is a dangerous, addictive drug with no medical value is scientifically absurd. Cannabis medicines, with no effective lethal dose, are far safer than aspirin, acetaminophen, and most other OTC drugs that kill thousands of Americans every year.
The Company works with world authorities on phytocannabinoid science targeting critical illnesses, and adheres to scientific methodologies to develop, produce and commercialize phytocannabinoid-based pharmaceutical products. In sum, we are dedicated to the creation of cannabis-based medicines, both with and without psychoactive properties, to treat disease and the symptoms of disease, as well as for general health maintenance.
Follow us on twitter at http://www.twitter.com/ourhotstockpick and become the first to see what our next HOT Stock Pick will be.
Ourhotstockpicks.com profiles are not a solicitation or recommendation to buy, sell or hold securities and is not offering securities for sale.  An offer to buy or sell can be made only with accompanying disclosure documents and only in the states and provinces for which they are approved. Ourhotstockpicks received fifty thousand dollars for 1 week profile of IFHR and may be buyers of features in the open market. Click here to view the full disclaimer