Ticker: CMGO:OTCQB

Last Trade: $0.0125
% change 66.67%
Direct Global Media just issued a press release initiating coverage with near and long term price targets making this the Monster play of the month!
Direct Global Media Initiates Coverage on CMG Holdings Group, Inc. Marketwire(Wed 12:47PM EDT)
With a HUGE AudioEye dividend spinoff at the end of the month, investors can see as much at 500%+ gains!

Hold on tight to CMGO shares, the biggest gains are yet to come – this will be HUGE!
Near term target just announced by Direct Global Media of $0.05 per share and will upgrade after the AudioEye spinoff – it will soon become a requirement for online Retailers

The word is getting out that AudioEye is the solution to the Justice Department mandate on online retail stores – this can be worth Billions!
Retailers in particular need to make sure their websites are in line with new regulations
The Department of Justice (DOJ) is poised to issue regulations that will reshape websites across the U.S. It is only a matter of time before the DOJ mandates that websites will have to be accessible to the disabled. http://blog.audioeye.com/?p=662
It gets even better!
CMGO not only has "AudioEye" going to add millions of $$, they have other subsidiaries already adding millions more in revenues!
We already told you sub-pennies would not last, now we are saying that $0.05 near term target is just around the corner – with $7 Million in revenues last year, expect this to jump over $10 Million for 2012.
CMGO is trading exactly like Fuse Science (DROP) and sideliners miss out big time when DROP was trading in the sub-pennies. Some members were instant millionaires when DROP topped $1.25 and 83,000%.
The psychological barrier of $0.01 is now down and we just saw the initial reaction of a breakout trigger – here's where the real gains are made!
CMGO closed at $0.0125 and top performer in the market with 67% gains on another BIG volume day 7.9M shares traded.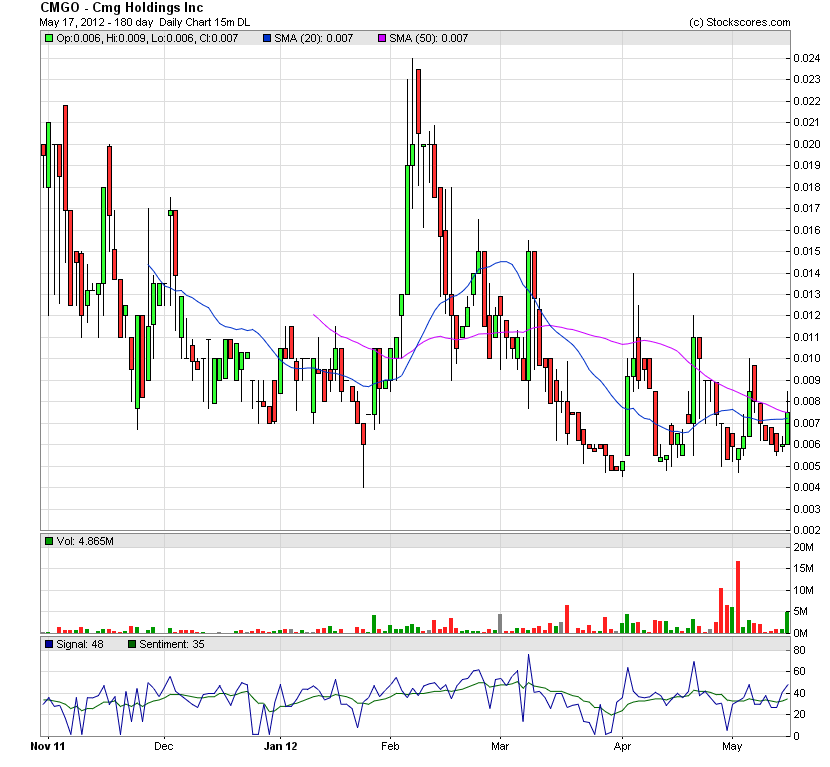 About CMG Holdings Group, Inc. (CMGO):
CMG Holdings Group, Inc. is a full service marketing and communications holding company. CMGO's mission is to build a national platform of exceptional companies that deliver solutions in the areas of alternative advertising, social media marketing services, event management and commercial rights. CMGO is seeking to expand its national presence via its acquired companies, capitalizing on their intellectual properties, patents, sales and marketing, new product development and continued operations via economic recovery. CMGO owns and operates wholly-owned subsidiaries, XA, The Experiential Agency, Inc. and Audio Eye, Inc.
For more information, please visit: www.cmgholdingsinc.com
Follow us on twitter at http://www.twitter.com/ourhotstockpick and become the first to see what our next HOT Stock Pick will be.
Compensation: Ourhotstockpicks has not been compensated for the profile of  CMGO.
Ourhotstockpicks.com profiles are not a solicitation or recommendation to buy, sell or hold securities and is not offering securities for sale.  An offer to buy or sell can be made only with accompanying disclosure documents and only in the states and provinces for which they are approved. Ourhotstockpicks may be buyers of features in the open market. Click here to view the full disclaimer