CAVR traded wildly today as shorts look like they were frantically passing around some of their short position to each other like a hot potato. Although, this may just buy them a few extra days, short will be scrambling to cover soon – the best defense is holding on to your shares and have the short come up to your price level. We are continuing to hold with no less than $0.20 price target in mind.

CAVR traded a record 4 million shares today, an obvious ploy by the shorts to entice sellers and create volume – their futile attempt ended with a 15.12% gain and putting them in more of a precarious situation. Rule 4320 flag continues to be in effect which just means that these short Market Makers are running out of time. Look for a quick breakout that can skyrocket CAVR to historic new highs quickly – being on side and taking any opportunities that presents itself is a sound strategy for mega gains.
CAVR closed today at $0.0449 on 4 million shares traded and a wild trading session that clearly shows these short's intentions – today's close shows that they were not successful and losing the battle.

OTCMarkets.com records Rule4320 flag on CAVR
CAVR shares are very thin and shorts will need to chase and push this much higher to create the volume required for them to cover – they are in a desperate situation now and RULE4320 will get them running for cover quickly.
FINRA defines Rule4320 as : "If a participant of a registered clearing agency has a fail to deliver position at a registered clearing agency in a non-reporting threshold security for 13 consecutive settlement days, the participant shall immediately thereafter close out the fail to deliver position by purchasing securities of like kind and quantity"
The short Rule4320 can be found at – http://www.otcmarkets.com/marketActivity/reg-sho-otc
Remarkably, CAVR is mimicking very similar to our last year's monster short squeeze, LBSR, where we have seen several shakes by the short market makers to entice seller  – Millions were made when the shorts gave in and covered pushing this winner up to a total gain of 4,500%!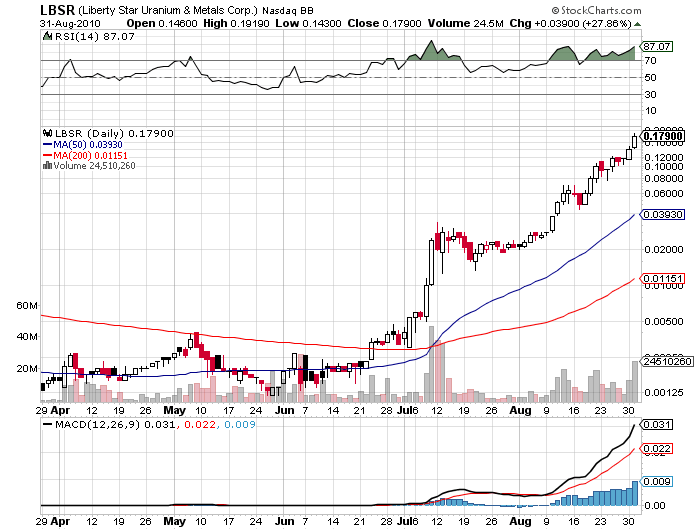 With every minor dip is an opportunity and this is your best opportunity to capitalize before CAVR's breakout.
We are still expecting a minimum of 400-500% gains on CAVR from these levels  as we continue to load and hold towards our $0.20 target price – opportunity is there for the taking!
About CAVU Resources, Inc.
During World War II, Navy fighter pilots would look up at the sky and if it was a "CAVU" day then it meant ceiling and visibility unlimited. The pilots believed they would have unobstructed flying allowing them to see their targets quicker, identify the obstacles they needed to overcome, giving them a greater chance of success. The founders of CAVU Resources, Inc., chose the name CAVU because they believe that the company will be the embodiment of its name.
CAVU was formed with the goal of becoming a recognized regional player in the independent oil and natural gas industry by growing the company's oil and natural gas reserves. CAVU is a natural resource company engaged in the acquisition, exploration and development of oil and natural gas properties. The Company operates in the upstream segment of the oil and gas industry with planned activities including the drilling, completion and operation of oil and gas wells in Oklahoma, Kansas, Colorado, Montana and Texas. The Company also owns two pipelines in its area of operations, which will be used for gathering its gas and oil and the gas and oil production of other producers. The Company has acquired leases and is currently exploring additional opportunities in oil, gas and helium leases. The company has acquired significant oil and gas equipment including rigs, trucks and completion equipment.
CAVU's 100% owned subsidiaries, CAVU Energy Services, LLC provides contract drilling, fracture stimulation and directional drilling services to oil, natural gas exploration and production companies. EnviroTek Fuel Systems, Inc., provides natural gas delivery and marketing thru its own pipelines and FILO quip Resources, LLC a licensed Oil and Gas Operating Company manages the company's properties and targeted leases in Oklahoma, Colorado and Montana. CAVU plans to expand operations not only in the traditional Oil and Gas business, but also to invest in Geo-Thermal, Wind, taking advantage of the changing environment and in the world's need for new, green and innovative resources. More information is available at the company's website at http://www.cavu-resources.com.
Follow us on twitter at http://www.twitter.com/ourhotstockpick and become the first to see what our next HOT Stock Pick will be.
Ourhotstockpicks.com profiles are not a solicitation or recommendation to buy, sell or hold securities and is not offering securities for sale. An offer to buy or sell can be made only with accompanying disclosure documents and only in the states and provinces for which they are approved. Ourhotstockpicks received 410K to profile CAVR in May and may be buyers of CAVR in the open market. Click here to view the full disclaimer