Hold on to your seats, strap on your seat belt, and get ready for blast off, AERS is going XTREME!

We just received word from Direct Global Media (DGM) that they will be unleashing an updated Report this weekend. We chatted with DGM today and from what we see, DGM received some KEY and interesting information from the company that will have a significant impact on AERS.
"We have just received important information pertaining to AERS and their business plan that prompted our Research team to review and upgrade our Research report that was issued on June 9th, 2012. We will be sending out our upgraded report this weekend" Maxwell, Direct Global Media
Now we know this is going to be HUGE when DGM upgrades their research report. There is only 1 reason to do so and that because of MAJOR information that will have a significant impact on valuation!
AERS started a major push into breakout territory and record highs this week. We are continuing to load up ahead of this weekend and definitely not selling a single share less than DGM's near term target of $0.10.
Last year when DGM upgraded their long term target on Fuse Science (DROP) from $0.75 to $1.25, the stock went mental and many were caught chasing at much higher prices. Shortly after, DROP hit DGM's target bang on and not only topped 83,000% gains, but made several of our members Millionaires!
So what could be the possibilities that will be unleashed? Hmmmm. Definitely is some of AERS key business plans come to fruition, this can easily be a triple gainer and what we have seen already this week definitely a tell tale sign that we are well on our way.  As we always say, "Beer Money" or "Bora Bora" – those holding for next week will be making a sweet phone call to their travel agent!
AERS closed solid GREEN at $0.023 and traded as high as $0.0255 or 15% – We are definitely seeing positioning here for the biggest week and end of month rally for AERS.

AERS technical chart cannot be more perfectly set up for a MAJOR breakout. The "W" bullish formation is clearly visible with a breakout past historic highs ($0.03) being the next push. Once this level is breached, AERS will soar like crazy. With MAJOR news in the works by the company, well, this will be just XTREME!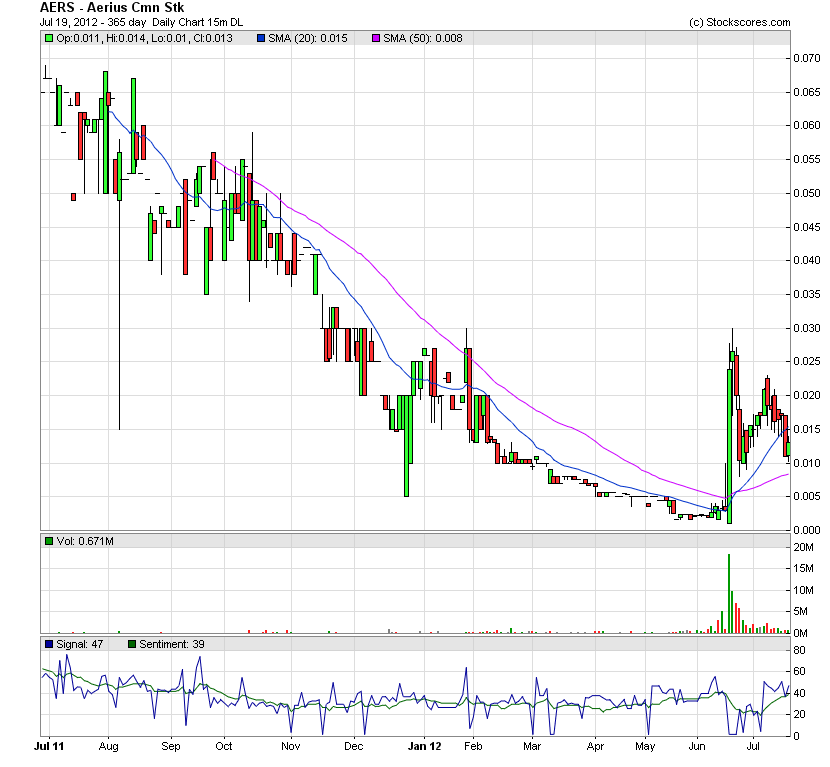 AERS patented smart phone technology is the "smartest" as they come. Recently tested, these phone are ready to hit the market big time.
Large carriers like T-Mobile and Vodafone continuously look for key advantage in improving on these issues. The interesting part is that Aerius (AERS) already has a patented solution that is available immediately.
AERS phone advantage
2 TO 4 MORE HOURS OF BATTERY LIFE
RATED VIRTUALLY SAR-FREE BY THE FCC
HEARING AID COMPATIBLE
60% FEWER DROPPED CALLS
WINNER OF 2009 FROST & SULLIVAN GREEN TECHNOLOGY AWARD IN WIRELESS TECHNOLOGIES
AERS management is solid with extensive experience and with major companies like AT&T, Tyco Electronics and producing HUGE revenues.
What is also very interesting is several companies these guys were driving were bought out by BIG competitors at premium prices – AERS is the next buyout possibility?
The company already  unleash a MAJOR update with several hints that we are in for many more – this will really get the rally on higher prices.
About Aerius International, Inc
Aerius International, Inc. has developed a revolutionary antenna technology for cell phones proven by carriers and in independent labs to increase battery life 66% and reduce handset power loss into users 99.4%.
Aerius won the Frost and Sullivan 2009 North American Wireless Technologies Green Excellence of the Year Award, based on Aerius equipped phone performance.
Compensation: Ourhotstockpicks has not been compensated for the profile of AERS .
Ourhotstockpicks.com profiles are not a solicitation or recommendation to buy, sell or hold securities and is not offering securities for sale.  An offer to buy or sell can be made only with accompanying disclosure documents and only in the states and provinces for which they are approved. Ourhotstockpicks may be buyers of features in the open market. Click here to view the full disclaimer